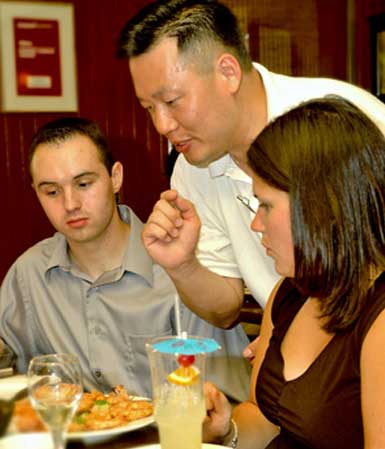 Benny Lai was just a toddler when his family escaped Stalinist Vietnam after the war. The family traveled in a small wooden boat, cramped together with dozens of other families, without sufficient food, water, or fuel. After a long and arduous trip, the Lais spent months in a refugee camp before gaining access to the U.S. None of them spoke English. They had suffered unimaginable losses, yet their strong work ethic and unwavering sense of optimism united. They worked together to rebuild their lives in America. When they finally settled in Philadelphia, Benny was able to start school. He became the family interpreter. His father noticed that other Southeast Asian refugees in their University City community were yearning for the culture and cuisine of their homeland. So, he decided to trek to New York and purchase ethnic foods to share with friends in Philadelphia. Over time, he earned the respect of his vendors, and was able to build his business. He used his new found purchasing power to open a small grocery store at 47th and Baltimore Streets. Fu Wah Market located just steps from Vietnam Café still serves the community today. In addition, the convenience store has become widely-known as a destination for urban food lovers seeking an authentic banh mi sandwich (lovingly known as a Vietnamese hoagie).
Always reaching for ways to improve the family's standing, the Lai's sensed an opportunity to expand beyond the grocery store. In 1984 they opened Vietnam Restaurant in Chinatown. Their friends and neighbors supported the authentic ethnic eatery, and before long, non-Vietnamese customers quickly became enamored with the sparsely-decorated eatery that featured recipes from the family's home kitchen. And then Benny started helping out. His warm personality added to the restaurant's appeal, as new patrons became repeat customers, the business began to flourish.
In 1989, the family transferred ownership of the restaurant to Benny. A decade later, Benny began a major renovation of the space. Over the course of the next year, Benny transformed the Lais' "hole-in-the-wall" eatery into a glowing tribute to the family's Saigon roots.
By 2008, Benny was looking for a new challenge. Turning back to his community, he decided to open the intimate 34-seat BYOB Vietnam Café in University City, just a few steps away from the original Fu Wah grocery store that his father pioneered decades earlier. (Benny was raised on that block and now he raises his family there.) Almost immediately after opening, demand threatened to overwhelm the small café, and Benny knew it he needed to expand once more. Armed with the entrepreneurial spirit of his father, and dreaming of a legacy to pass along to his young sons, Benny took on a top-to-bottom renovation of a corner restaurant formerly known as Abbraccio and transformed it into the new Vietnam Café, one of Philadelphia's most stylish and popular ethnic dining spots. The new restaurant honors the Lai family's history. It pays tribute to the high-standards of the flagship Chinatown restaurant with thoughtful, attentive service, authentic food, and accessible pricing. With the eternal enthusiasm and work ethic of his past as his guide, Benny has passed on the spirit of his parents' mission to his young family as they work together to build a better tomorrow